The holiday shopping season is here!!
The music program can earn up to 10% of your Amazon purchase. Click on the Amazon logo and shop as you normally would through your Amazon account. For the fundraiser to be activated, the logo must be clicked! Items you put in your cart and purchase later do not count without clicking on the logo first.
Please contact Mr. Trio with any questions (eric.trio@stcschools.com).
Supporting the Music Program is easy:
Visit STCSCHOOLS.COM and click "Schools" near the top
Click "St. Clairsville Elementary School" from the drop down list of schools
Click on "Explore" and then "Elementary Music Program."
Click the Amazon logo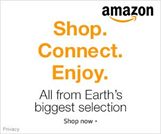 Log into your account and shop!